Tyrone Price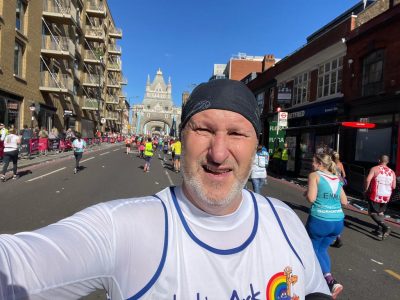 The National Plant Manager of Chepstow Plant International raised £1,500 for the Noah's Ark Children's Hospital for Wales.
Delyth Lewis
"I was successful in the ballot and wanted to raise money for a Welsh charity. I live in Cardiff and have two children and have experienced the wonderful services of Noah's Ark first hand! Also Noah's Ark has been there for many of my friends children who have been extremely unwell so wanted to help give something back.
"I have run the London Marathon before before I had children but haven't run this distance for over 10 years!"
Delyth raised an incredible £1,277 for the Noah's Ark Children's Hospital for Wales.
Lauren Smith
"This was my first full Marathon and I was lucky enough to get a place in London. I finished in 4hours 48mins and I have to admit I absolutely loved every minute of it. The atmosphere and crowds were electric and I somehow smiled the whole time.
"My reason for running for Noah's Ark was because my daughter Megan was admitted to the Noah's Ark children's hospital for Wales on the 29th of November 2016 at three years old. Megan had contracted meningitis and sepsis and was critically ill.
"She spent 5 days in an induced coma in PICU and then went onto spend time on Jungle ward. Since this time I have tried to dedicate myself to fundraising to try and give something back to the hospital that saved my little girl. I feel forever connected to Noah's Ark. Megan is still treated in the Gwent due to her epilepsy which we believe was a possible side effect from the meningitis."
Lauren raised £805 for the Noah's Ark Children's Hospital for Wales.
 A huge congratulations to our three London Marathon runners for undertaking the gruelling 26 miles for the Noah's Ark Children's Hospital Charity. Together you have raised over £3,500 which will help to support the 73,000 children and their families that we help each year, thank you!